Sunday, December 16th, 2012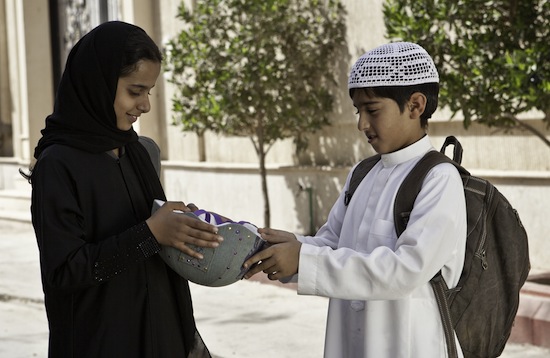 Groundbreaking is definitely an overrated word these days. Yet there are some instances when nothing else will do. Haifaa Al Mansour's
Wadjda
for example, is a film that demands the multiple use of this word. It is an unprecedented first film shot in Saudi Arabia, by a Saudi female filmmaker. It is also a simple human tale of a girl yearning for a green bicycle, yet when one delves deeper, the film uncovers a world of women — strong, independent women who know what they want yet still have to navigate the intricate rules of Saudi society to be accepted.
For a daughter who grew up with a single mother, Wadjda hits all the emotional buttons. I may have walked in looking worthy of a gala presentation at the Dubai International Film Festival this past Wednesday, but I definitely walked out with mascara smudged down my cheeks and still half sobbing from the ending.
The film is being distributed in the US by Sony Pictures Classics and has already opened theatrically in Europe. Interviewing Wadjda creator Al Mansour was one of the main reasons I wanted to be at this year's DIFF and in person, she does not disappoint. Petite, intelligent and so gloriously humble, I sat with the talented groundbreaking filmmaker for a talk I will never forget.
To read the interview, check out the Huffington Post.