Sunday, December 29th, 2013
Back in April I wrote about Dubai International Film Festival and Gulf Film Festival Chairman Abdulhamid Juma, and gushed about what great insight and cinematic instincts he possesses. Well, since then I've been very fortunate to sit with Juma on a few other occasions and get more of his wisdom. Recently, I featured his insight in a comprehensive article on cinema in the Gulf for Shawati' Abu Dhabi magazine. I mean it when I say he's the voice I need in everything I write from and about the region, the one person who will always set me straight and supply wisdom.
So here is my second interview with Abdulhamid Juma, as he prepared for the 10th anniversary edition of DIFF, which was simply spectacular, all around. N-joy!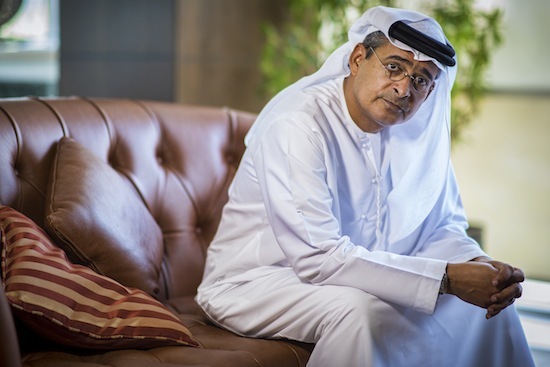 Few men embody the true grace, elegance and pride of the Arab world as well as
Dubai International Film Festival
Chairman Abdulhamid Juma. He's
an endless source of inspiration
for a cinema lover like me and his generosity, of time and spirit, has helped to shape some of my most successful writing to date.
I'm also extremely fortunate that I've been able to turn to Juma on quite a few occasions, whenever a question arises or I need his insight to make something crystal clear. His no-nonsense, 'few words to mean so much' approach to life — and his work in encouraging, featuring and promoting world cinema — have provided me with priceless gems of wisdom. Walking out at the end of a screening of Enough Said in Abu Dhabi, I struggled to find the words to describe the film featuring James Gandolfini's last performance. "Wonderful script" Juma quickly jumped in when I met him in the lobby, and with those two words, had the movie forever labelled in my mind.
So for this year's special tenth anniversary edition of DIFF, I naturally turned to Abdulhamid Juma for ten concepts that could clearly define his festival. His words perhaps shed light on the reasons why Dubai, in ten short years, has become the Cannes of the Arab world, the go-to destination for world cinema in the region, and beyond.
Clear Vision
Juma explains "We really knew what we wanted from day one. What type of festival we wanted, because I think some of the festivals I hear about, or go to, they just don't know what they want. Sometimes they are for the public, sometimes they are for the industry, sometimes they are for the local productions, sometimes for tourism, sometimes they are for no reason. We had a vision."
DIFF-erentiation
This one more of a challenge, in Juma's words "How do you differentiate yourself from other festivals?" And he continues "And that DIFF-erentiation came to us as part of our third reason which is…"
Focus on Arab cinema
In a sea of film festivals, one kicking off almost every day, Juma stresses what's important "These last three points really go together. A clear vision, with DIFF-erentiation, through a focus on Arab cinema."
For more insight, check out the original interview on the Huffington Post.