ARUSI Persian Wedding: An Inviting View Inside the Iran We Seldom See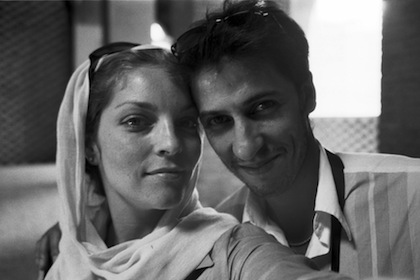 "The brain may take advice, but not the heart, and love, having no geography, knows no boundaries [...] Only hypocrites would hold a man responsible for what he loves, emotional illiterates and those of righteous envy, who, in their agitated concern, mistake so frequently the arrow pointing to heaven for the one that leads to hell. "
Truman Capote certainly had it right when he wrote the passage above. Love undeniably remains the one thing we cannot control, and yet when it comes to religion, class, ethnicity and beliefs, so often two lovers can be turned into tragic reincarnations of Romeo and Juliet by society and their own families.
Thankfully, Marjan Tehrani's film ARUSI Persian Wedding is not such a tale. In her touching, insightful documentary she follows her US-born brother Alex and his American bride-to-be Heather on a journey of discovery and reconnection to the Tehrani's Iranian roots, culminating in the couple's Persian Islamic wedding in Tehran. The documentary was filmed in 2005, in the midst of the Iraq war, which makes their adventure that much more important.
I recently met Tehrani at a Tribeca All Access lunch where she was pitching her latest project Boarders Without Borders, a documentary about American and Iranian snowboarders finding common ground on the slopes of Iran. Tehrani's past projects include the feature documentary Her Israel, a look inside this complex Middle Eastern country through the eyes of three women, two Israeli and one Palestinian.
What struck me most about Tehrani — apart from the freshness of her upcoming film, which promises to bridge the divide of our two cultures for a whole new generation — were her bright, beautiful eyes. Behind them, I saw the soul of a woman who is at once incredibly sensitive but also possesses that great gift of storytelling. So often, documentary filmmakers try to hold our hand with their narration and end up unwittingly talking down to their audience.
In ARUSI, Tehrani steers well clear of preaching, while also managing to teach her audience about the beauty of Iran, the kindness of its people and the intricate traditions of their weddings. She appears occasionally alongside Alex and Heather, or can be heard narrating off-camera in a fluid, unaffected voice. Seamlessly, she manages to shows us the Iran of her heart, one we, as Americans, might never otherwise be able to experience.
httpv://www.youtube.com/watch?v=wZV7j6Jgy8o
While the film is definitely an ode to cultures coming together and rediscovering one's roots ARUSI's great emphasis on illustrating Iran's complicated political history makes for some brilliant subtext. I like to consider myself well read and knowledgeable on issues pertaining to the Middle East — for lack of a better title to describe the Region — yet, it turns out, I knew next to nothing of the lengthy British exploitation of Iranian oil riches, nor about Prime Minister Mohammad Mosaddegh progressive social reforms, which eventually led to him being removed from office in a coup organized by the Americans and the Brits.
Operation Ajax — named after its CIA cryptonym — removed the "inconvenient" Mosaddegh, reinstated the US-backed Shah Reza Pahlavi, and returned Iran to its pre-Mosaddegh absolute monarchy status. In her calm, unwavering tone, Tehrani narrates the turn of events while showing stock news footage from the coup, the Shah's reign and eventually the Ayatollah Khomeini's return, thus allowing for a clear understanding of some political wheelings and dealings that have yet to see their full consequences in today's world.
It is perhaps within these instructive asides that I found even more respect for Tehrani and a great, unfaltering passion for ARUSI as a film. In this age of newly formed colonialist efforts, disguised in the aid of the Arab Spring revolutions, that old, but always holding true warning by Edmund Burke (1729-1797) "Those who don't know history are destined to repeat it" appears particularly poignant. Plus, entertainment with a healthy dose of enlightenment is always a favorite for me.
ARUSI Persian Wedding was originally shown on PBS in 2009 during their Independent Lens program and today is part of the Women Make Movies catalogue, an independent media distributor which boasts among its films other personal favorites such as Pink Saris and Unveiled Views, which was shown last year at the Engendered I-View Film Fest. There is talk of ARUSI being made available on ITunes before the end of this year, which will make for even easier viewing. But in the meantime, the film is available from WMM and there is a purchase link on the filmmaker's own site, Tru Films.
Even if the Tehrani siblings' mother was Jewish American, Marjan Tehrani has confided that "my name, my features and my foreign father have always separated me from fully identifying as an 'American.'"
Yet her brother Alex also appears somewhat ill-at-ease in Iran, often singled out as a foreigner because of his demeanor and accent. Alex's conundrum is a common affliction for those of us who are hyphenated, multi-cultural individuals and have arrived to where we are today by our families crossing many borders. Eventually, it's exactly this sensibility which will lead to a global understanding, maybe even world peace, but for now it may feel a lot like alienation. Tehrani gives that exact idea a voice and her film is a must for all who have ever felt a need to love to feel whole.
Image courtesy of Tru Films and Women Make Movies