Greg Barker's Koran By Heart on HBO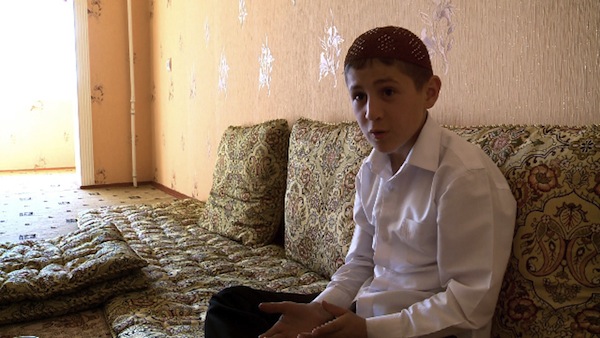 On August 1st, at 9 PM, Greg Barker's beautifully poignant film Koran By Heart, will be shown on HBO as part of their Documentary Film Summer Series. Beyond the sensationalistic headlines, the very recent Twitter trending of "#Muslims" and the Western world's common misconceptions about Islam, lies the reality that nearly 1.5 billion Muslims inhabit this earth. Representing a fifth of the world's population, the followers of Islam are an irrefutable force to be reckoned with. And the Koran is their Holy Book, driving at once their political, personal and religious choices.
Barker's thought-provoking documentary sheds light on some of the important facts many of us may never otherwise know (like that all followers of Islam learn the same Arabic version of the Koran, regardless of their native language) while following three amazing ten-year-olds — Rifdha, a girl from the Maldives, Nabiollah, a boy from Tajikistan and Djamil, a boy from Senegal — on their incredible journey navigating through Egypt's International Holy Koran Competition. The most prestigious yearly Koran recitation competition, which is held in Cairo and brings together 110 young students from over 70 countries during the month of Ramadan. During the course of the competition, these young men and women are asked to recite random passages from the Koran, from memory, which is a daunting task considering most of the children do not speak Arabic in their home countries and the Koran is made up of 30 Sections, 114 Chapters and 6,236 verses!
I recently caught up with Greg Barker, who patiently and charmingly answered all of my questions over the phone from his native California, where he now lives with his family after nearly two decades spent in the UK. Within his thoughtful answers, I found a man who both admires and respects the Muslim world, but also understands the challenges ahead. His film, Koran by Heart is a must-watch, the tool we all need in these trying times, to help us realize just how similar our seemingly opposite and opposing cultures are. And the perfect way to acknowledge the Holy Month of Ramadan, which begins in the US the same day Barker's film premieres on HBO.
httpv://www.youtube.com/watch?v=zpO-a8AIz7M
E. Nina Rothe: What draws Greg Barker to the Arab World? You keep going back there through your work…
Greg Barker: I remember traveling through Egypt when I was 25/26, and hearing the call to prayer for the first time. I was in a small town, in a very very cheap hotel, being woken up at 4.15 or 4.30 by the call to prayer from this squeaky speaker right outside my hotel window and thinking WOW, what is THAT? And then just getting sucked in, I found it very alluring and fascinating. I actually really enjoy traveling through the Arab world, I enjoy the people, I enjoy the food, I enjoy the culture and the music and the faith. I find all of that really interesting, even though I'm not a Muslim and I never thought of converting at all. But it's not that, I find it interesting, I am fascinated by people of faith and how that shapes their world view. And of course that's at the bottom of all the political turmoils, the impact that religion has had… I find other parts of the world very interesting too: small towns in Russia, China, so it's not like I'm solely focused on the Middle East, but I find myself just going back for the stories and the culture. I think that we have to understand. I spent most of my adult life living overseas, in London for almost 18 years and just recently moved back to the States, to California. I was really struck at the misperceptions that people have about Islam and that's not to say that the controversies we are all aware of aren't real, they really are and very important, but I think it's a faith full of contradictions and nuances and the more we understand that, the better. Because, Islam affects America. There are many Muslims in America who are citizens like anybody else and also, if we are involved in that part of the world politically and militarily we've got to understand.
READ THE FULL INTERVIEW ON THE HUFFINGTON POST
Images courtesy of HBO