Olsson's The Black Power Mixtape 1967-1975: The Revolution Will Be Documented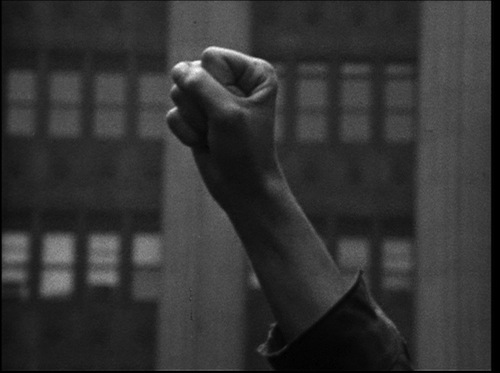 "The real voyage of discovery consists not in seeing new landscapes, but in having new eyes." Marcel Proust
I think the reason I love cinema so much is that, as a medium, it possesses the most potential for uniting the world. While we watch a DVD of a French film at home, sit in a theater being washed over by the images of an Italian B & W classic, or surreptitiously check out the recent download of a Bollywood movie on our iPad, we are undeniably transported to other lands, other eras and, most importantly, other ways of looking at things. But while the promise is there every time we choose a title, few films achieve the grand objective of forever changing our mind and enriching our world permanently.
Swedish filmmaker Göran Hugo Olsson's documentary The Black Power Mixtape 1967-1975 is one of those once-in-a-lifetime films which seamlessly reaches the full cinematic goal of changing its viewers' world for good. Face to face, the stylish, understatedly handsome Olsson is quick to point out that with The Black Power Mixtape "I am not trying to tell the story about the Black Power movement. I'm telling the story of how it was perceived in Sweden. So it's an outsider's look, from outsiders' material." As we sit inside a Soho eatery sipping coffee, in the quiet off hours of the afternoon, he continues "Erykah Badu, in the film, says that we have to tell our own stories, but this is my story. This is the Swedish story of this period in US history."
Here I thought I knew about the Civil Rights struggle, the Black Panthers and the Black Power movements around the world because I grew up grooving to the provocative lyrics of Jamaican Dub poet Mutabaruka, listening to the speeches of Louis Farrakhan, reading Nation of Islam newspaper The Final Call and learning — through movies, books and TV — the life stories of Malcolm X, Nelson Mandela and Maya Angelou.
httpv://www.youtube.com/watch?v=jFWHNpfjByQ
Turns out, I was like an encyclopedia with a few hundred pages missing, because my knowledge didn't dig quite as deep as I thought, leaving out important dates, and misinterpreting the role of important individuals who changed the world with their presence. While watching The Black Power Mixtape, it is impossible not to become enchanted with the charismatic Stokely Carmichael, the passionate Angela Davis, the enlightening Eldridge Cleaver and the entire circle of exceptional men and women who made the Black Power movement the seismic event we are still feeling, and thankfully living, in our modern-day USA.
It was precisely those personalities and their style that lit the spark to create The Black Power Mixtape. Olsson explains " the same day I saw the speeches by Stokely Carmichael and the interview with Angela Davis in jail. That gave me the idea: first you have this black and white where everybody looks sharp in their suits and then you have this 70s style with those colors in that prison, green and red and black. That made up my mind. It was a visual process." But a film is about so much more than visuals and choosing a project for Olsson has always involved "two factors: it's a balance between seeing the potential cinematic value of it and the importance, the connection you have to it yourself. Both must be 100% in order to start a project."
CONTINUED on the Huffington Post