Lars von Trier's Melancholia — Don't Judge a Film by Its Headlines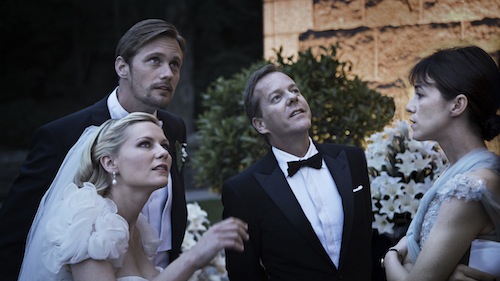 Without a doubt, Lars von Trier's Melancholia will be remembered as the film that brought about the filmmaker's misguided comments about being a Nazi and understanding Hitler, during a press conference at this year's Cannes Film Festival. Yet, I agree with the NY Times' Manohla Dargis when she confessed in her recent article to missing that distant time in our past when a great director would only be known by his work and nothing else. Those pre-Twitter times when filmmakers and actors spoke as little as possible and whatever faux pas they made would be reserved to an article in a magazine, or be a one-day headline for a newspaper and then be forgotten by the time their next film opened.
If that was still the case, Melancholia would be hailed as von Trier's most amazingly haunting film, a truly beautiful work of art, complete with great performances by Charlotte Gainsbourg, Kiefer Sutherland (in a post-24 welcomed return to movies) Alexander Skargård and of course, as recognized by her Best Actress award at Cannes, Kirsten Dunst. The film is visually splendid, the cinematography by Manuel Alberto Claro absolute genius and the set designs, by Jette Lehmann, and costumes, by Manon Rasmussen, lavishly outstanding.
Unfortunately, we live in times that play out much like our childhood game of the "Telephone". One celebrity makes a comment or gesture, the media pounces on it and the misdirected jokes of a self deprecating director like von Trier — someone who has gone as far as saying that the finished product of Melancholia "looks like shit" — become a serious, life-changing, career destroying villainy. No one concentrates on the positivity of the artistic product, opting instead to give into the negativity and scandal.
(Continued)
Read the entire piece on the HUFFINGTON POST, watch the trailer below.
httpv://www.youtube.com/watch?v=wzD0U841LRM
Image by © Christian Geisnaes, courtesy of Magnolia Pictures, used with permission