Jean Jacques Annaud's Black Gold: Will You Get to Watch This Film?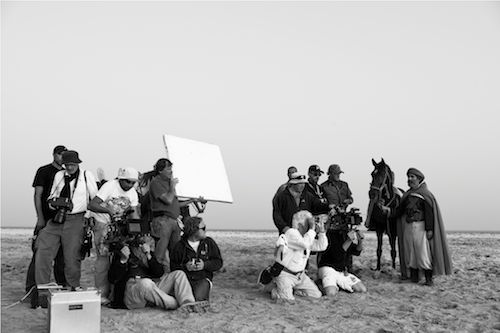 I had high expectations for Black Gold, the film that kicked off this year's Doha Tribeca Film Festival in its world premiere. After all, there was so much riding on it, the first big budget Arab blockbuster, a collaboration between major U.S. studios Warner Bros. and Universal with Tunisian visionary producer Tarak Ben Ammar's Quinta Communications and Qatar's own Doha Film Institute. A story about Arab protagonists, filmed entirely in MENA — Qatar and Tunisia — and finally chock full of subtext that could inspire the rest of the world on the heels of the recent Arab Spring revolutions, which coincidentally broke out in Tunisia while the film was being shot.
On a hot desert morning in Doha, I finally watched Black Gold, in the air conditioned comfort of a dark screening room with plush seats. Leaving aside the powerful story, the great acting and the important themes, I was delighted further by what the film represented to me, an aficionada of Arab cinema, and someone who dares to dream that cinema can and will one day unite our "us against them" world.
Watch the trailer of the film below:
httpv://www.youtube.com/watch?v=gvmqeDsVTTs&feature=related
Black Gold is based on the 1957 book South of the Heart: A Novel of Modern Arabia by travel enthusiast and sometime race car driver Hans Ruesch, who was born in Naples of Swiss parents. It tells the story of two Emirs, Nesib and Amar, who come to agree to keep the strip of land that divides their countries, a no-man's-land called The Yellow Belt, neutral. In order to seal the deal, Nesib adops Amar's sons Auda and Saleeh as a guarantee that neither will ever be able to invade the other. When the boys are all grown up, an American shows up to tell Nesib that The Yellow Belt is blessed with oil, which naturally gets the Emir thinking of how much this would mean for his people. On the one side is the temperate, more spiritual Amar, who believes that "anything that can be bought has no value" while Nesib will go to any lengths to achieve his goal, which may not be so wrong after all. The stage is thus set for an epic battle, one that promises to change the viewer's idea of right and wrong with its welcomed shades of grey. (CONTINUED)
Read the entire piece on the Huffington Post.