Nanni Moretti's We Have a Pope Is WAY More Than Just a Comedy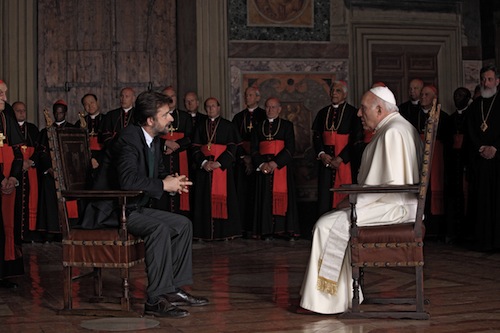 "I remember the shirts that said 'Thank God I'm an atheist'. Funny. But I do not think so. I'm not a believer and I'm sorry." Nanni Moretti, 2011
I watched Nanni Moretti's latest film, We Have a Pope (Habemus Papam), at the Abu Dhabi Film Festival back in October. What a weird place, the Middle East, to watch a film about a reluctant Catholic leader who just cannot bring himself to accept the great responsibility laid on his shoulders, one would think… And yet, I now cannot imagine a better place to watch such an inspiring, strong, thought-provoking film delving deeply into the dogmas of blind faith and the acceptance of power by a true leader.
Unadulterated by the savvy smirks of my fellow Italians (had I watched the film in, say, Rome) and the inappropriate laughter of the typical American audiences, which would have grabbed onto Moretti's more humorous takes and as a result, completely missed the depth of his message, my geographical location allowed me to be completely hypnotized by this deeply spiritual movie. Surrounded by a multinational audience swaying concurrently to each emotion dished out by Moretti and his cast, ADFF turned out to be the ideal setting for a most perfect film.
For some screenings, I find myself constantly scribbling newfound wisdoms in the notebook I keep on my lap. For We Have a Pope, I was so spellbound, from the first images of the cardinals walking up the incline of the Vatican chanting their sing-song ora pro nobis, to the last shot, which is guaranteed to surprise, I forgot to write a single word in my Moleskine. That's because We Have a Pope is thoughtful, deep and insightful. A thoroughly mystical film by modern-day philosopher Moretti who masterfully creates a beautifully shot environment of closeups and true to life emotions. It is a film that still lives deeply in my heart, more than a month later…
Watch the trailer below and then read the ENTIRE PIECE on the Huffington Post UK.
httpv://www.youtube.com/watch?v=9qm0RdK6k1U
Top image courtesy of the Abu Dhabi Film Festival, used with permission