Anything Goes on Broadway, as New as Ever!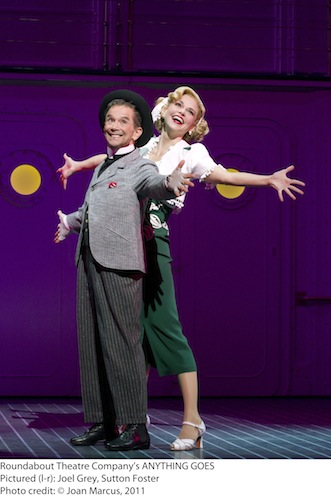 You may be asking yourself, so how relevant can a 1930s show taking place aboard a transatlantic cruise ship, starring an entertaining gangster and a plucky cabaret singer and featuring a couple of crisscrossed lovers really be in 2012 NYC? The short answer is very.
Lets go back to the year 1934 in America, the year Cole Porter's Anything Goes debuted on Broadway, in its first incarnation of the oft revived musical. It is the year which follows President Roosevelt establishing the "New Deal" in 1933, as a response to the Great Depression, and focusing on what historians call the "3 Rs": relief, recovery and reform. It is the year the U.S. Securities and Exchange Commission is established to watch over Wall Street, to make sure another Great Depression won't happen again. And it is the year prior to the establishment of the FBI, with J. Edgar Hoover as its first, and most well-known director. So, the long answer is that the U.S. of 1934 was very much like this country of ours in 2012: uncertainly dark, changing at a dizzying speed and in dire need of strong guidance. The perfect time to watch a show that can both transport and transform its audience.
CONTINUED…
Read the entire piece on the Huffington Post.
Top image by © Joan Marcus, courtesy of the Roundabout Theater Company