ADFF12: The Citizen — Four Men, a Movie and the American Dream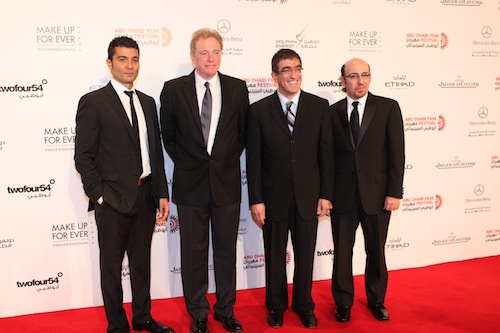 "I need to digest your film, I hope you don't mind?" I hear myself saying this to the director and writer of one of the biggest red carpet premieres at this year's
Abu Dhabi Film Festival
. Sam Kadi is sitting across from me, asking me what I thought of his film, which screened the night before to a sold-out audience in the Emirates Palace theater. The film's basic synopsis tells the story of a Muslim Lebanese man who comes to NYC on a Green Card lottery visa, the day before the attacks on the World Trade Center.
In fact, there are some films that leave you breathless at first sight and others that cover so many layers, have so much insight that it's simply impossible to stop thinking about them for days, weeks, perhaps months to come. Sam Kadi's The Citizen, starring Egyptian superstar Khaled El Nabawy and American screen legend William Atherton is a film that belongs to this latter category — the kind of movie that fills your day thoughts and colors your dreams for a long time after viewing it.
Perhaps the greatest quality of Kadi's film is that at first glance it may appear to give another insight into the mistreatment of Muslims in America after 9/11, yet soon enough the viewer discovers it's actually not that simple. Beyond the initial premise, The Citizen is a film tribute to a great country, to our slightly dusty "American Dream" and an homage by one of its adoptive Arab sons to the land he loves. Kadi could be Ibrahim, his lead character, but the even finer point here is that we all should be. As the caramel-skinned, flawlessly handsome Nabawy says, in his kind, fluid English with just a hint of indefinable accent, "If you want love, love first" and as a film, The Citizen shows us the way.
For the full article and interviews check out the Huffington Post.