When I Saw You: Could This Palestinian Film Win the Next Foreign Language Oscar?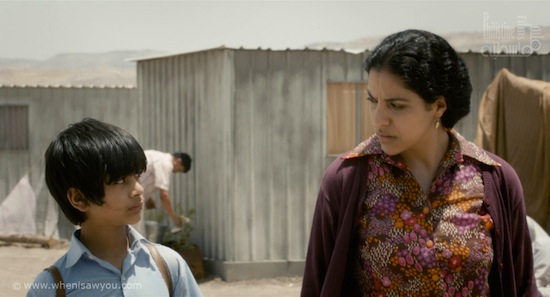 There are two dates that are crucial to all Palestinians. The first is 1948, when the Arab-Israeli War displaced the first wave of perpetual refugees during a time known as the Nakba — "the disaster." The second is 1967, when those Palestinians living in the West Bank and Gaza were also unsettled by the Six-Day War, families were forever separated and a new Palestinian exodus surged.
But there may be a third date to add to Palestinian history, this time a positive marker of great things to come. In 2013 the Palestinian state may acquire non-member "observer state" status at the UN which would mark a day when, in the words of veteran Palestinian negotiator Saeb Erekat, "life will not be the same." This coming year could also see the first Palestinian entry on an Oscar short list and quite possibly an Academy Award for Best Foreign Film going to Annemarie Jacir's When I Saw You. Yes, her film is just that good and with Iran withdrawing, the members of the Academy should be looking for a new milestone.
If it sounds like I'm gushing about Jacir's film, don't be mistaken, I am. I've been a huge fan of her work since watching her first feature two year ago. Salt of this Sea was beautiful cinema, with a strong, angry and perfectly right to be so heroine. But her latest, When I Saw You, is cinematic poetry, the perfect blend of stunning cinematography, humanly portrayed characters and a story that hits you with an immediate gut reaction, yet colors your dreams and inhabits your thoughts for days to come.
Perhaps my deep-rooted love of Jacir's work stems from the fact I believe that as individuals, all we really want in our heart is to belong and to be understood. While most filmmakers explore this basic human craving with stories about lovers and romance, Annemarie Jacir has always hit closer to home for me, journeying through the plight of the displaced. And anyone who has ever left their home behind, for however long or by whatever reasons, cannot be left unmoved by Jacir's films.
Read the entire post with Annemarie Jacir's interview on the Huffington Post.