The Omar Interviews — In the Land of Film and Hany (Abu-Assad)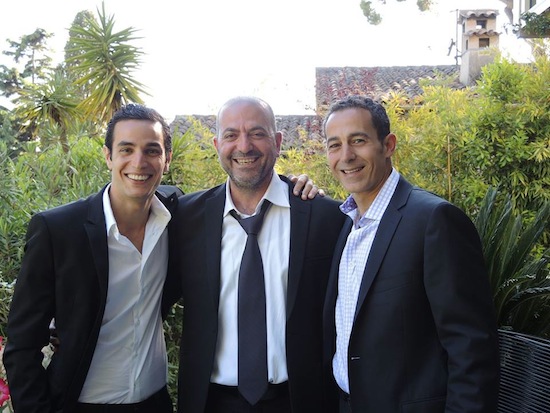 From left: Adam Bakri, Hany Abu-Assad and Waleed Zuaiter, photographed by Joana Zuaiter
With the recent confirmation that Yasser Arafat was indeed poisoned (or as the news more diplomatically put it, "may have been poisoned") I'm reminded once again of the dirty games politics play in dividing the world. Thank goodness for film and its power to instruct and unite. Even a stunningly strong, difficult, powerfully truthful film like Hany Abu-Assad's Omar has the power to change the world for the better. Because learning and accepting are always the first steps in moving on.
Omar is getting ready to enjoy its Gulf premiere at the Dubai International Film Festival later this year, but I caught up with Abu-Assad at his home in Nazareth earlier this summer and the interview changed my life. Here is an excerpt, but read the entire piece on the Huffington Post.
"Transform the way people see the world through film." This inspiring quote can be found above the desk of Cameron Bailey, Artistic Director of the Toronto International Film Festival, and has become the mission statement for TIFF 2013.
So it's only natural that this year's thrilling TIFF line-up should include one film which manages to do just that, more powerfully and unavoidably than any other: Hany Abu-Assad's Omar.
Omar is a film filled with truths, heart and a talented ensemble cast led by Adam Bakri in the title role and Waleed Zuaiter as agent Rami. It screens as a Special Presentation at TIFF.
I first got to interview the much sought-after Palestinian filmmaker in Cannes, where his cinematic masterpiece won the "Un Certain Regard" jury prize this past May. Omar shattered me emotionally, I needed to go back to my room and take the rest of the day off after viewing it, because it destroyed my sense of what is right and what is wrong and how sure I was that I knew the difference. But since then, the film has also left me feeling strangely hopeful for solutions, for the magic of human intervention. It is what Abu-Assad does best, it turns out, make his audience "believe the unbelievable," that the imperfect abilities of humanity can perhaps one day help fix this world, away from politicians, conventions and hidden agendas. But first we'll have to be confronted by the difficult truth.
In person, Abu-Assad is a man bigger than life. Tall, with a hoarse, sultry voice, a soft hint of a hard-to-place accent, he's both boyishly vulnerable and magnetically strong. Perhaps too inconceivably insecure for a filmmaker of his status. Yet while he talks, looking you straight in the eyes with his own captivating set, everyone else in the room disappears, even if that "room" happens to be a noisy beachside lounge on La Croisette, filled with media from all over the world.
What remained obvious to me from that interview was that I wanted to find out more and since he had extended a casual but hospitable invitation to "come see my Nazareth" so I embarked on a journey that would take me through Jordan, from Amman up to the Sheikh Hussein border crossing and into the Israeli-controlled, indisputably Arab city of Nazareth.
Arriving to Abu-Assad's city using the Arab route turned out to be the most challenging journey I've ever undertaken. Crowded planes, long taxi rides with daredevil drivers, hot asphalt, buses that would stop and start and take hours to travel just meters across the border, unpleasant customs formalities, waiting, waiting and more waiting. But it was all worth it, for Nazareth and Hany Abu-Assad, its most brilliant son.
Nazareth is infectious. From the moment I set foot in town, I knew why the filmmaker had moved back to "the ghetto," as Abu-Assad affectionately calls it — to his family's building, where he's now surrounded by uncles, aunts and his amazing mother who lives just upstairs.
(Continued on the Huffington Post)