Arwad Asks, Can You Go Home Again?
Well, personally speaking, the short answer is "no". But you'll have to watch Arwad, a great new Canadian film made by a couple who are also together in real life, to make up your own mind. Here's a teaser of my thoughts and an interview with the filmmakers. You'll have to check out the entire piece for a longer answer, on the Huffington Post, as usual… N-joy!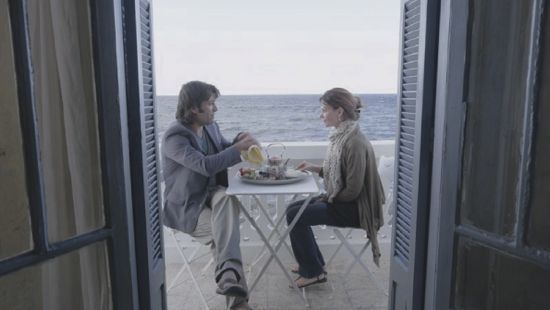 Ramzi Choukair and Fanny Mallette in scene from Arwad
Last week, I received an email from a publicist friend telling me that I simply had to watch the film
Arwad
, which screened at the recent
International Film Festival Rotterdam
. Her exact words were "I watched a film tonight that blew me away" and being that I trust her judgment a lot, I found a way to view it, as soon as possible. She was right.
Arwad
blew me away too.
But unlike some films that tear your heart apart and then offer it back to you on a platter, Arwad — co-directed by husband and wife team Samer Najari and Dominique Chila — enters your soul quietly, finding a spot inside your thoughts, finally settling down slowly in your heart. It wasn't until I started dreaming about the film and discovered all my conversations included mention of it that I realized the strength of its message and the carefully crafted beauty of its themes.
Arwad, which is the name of an island off the coast of Syria, asks us one of the hardest questions ever: Where do we belong? Perhaps the biggest tragedy in life comes from not understanding that. It's the plight of the refugees, emotional and physical, who await, or search for something that no longer exists. As Najari said so beautifully during our Skype interview "childhood is not a geographical place." While we are busy longing for our past, our home countries, our lives as they were there, we sometimes forget to recognize our perfect presents and the great possibilities of our futures. The late Anthony Minghella once said "the feeling of not belonging, of not being entirely worthy, of being sometimes hostage to your own sensibilities, those things speak to me very personally." A great filmmaker knows how to translate those feelings to his audience, as Najari and Chila manage so flawlessly.
At the center of Arwad is a threesome but "not in the conventional way" as Chila pointed out during out chat. This is a poetic threesome of souls that become deeply connected, because of one incident. Ali, played to melancholic perfection by Ramzi Choukair, searches for his homeland to complete him, while Gabrielle and Marie, his wife and lover respectively, perhaps start out believing they are complete only to discover that as human beings we are part of a puzzle, one that cannot be whole unless all the pieces feel intact, and interconnect. And in today's world, our collective being is deeply in crisis, because the majority of us feel damaged or threatened.